Susan Fisher | Board President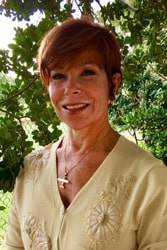 Wendy VanVacter | Vice President
Wendy is AVP, IT Risk Management for a Midwest life insurance and annuity carrier. While risk management is Wendy's day job, she spends her free time focusing on her passion for Las Vegas history and historic preservation.  Since moving to Las Vegas full-time in 2012, Wendy has been a continuous volunteer at the Neon Museum and a regular supporter of the Nevada Preservation Foundation.  Wendy resides in Paradise Palms, the first master-planned community in Southern Nevada and the first neighborhood on the Clark County Register of Historic Places.
Jennifer Gaynor | Secretary
Greg is the president and founder of The Ferraro Group, a public relations and public affairs company with offices statewide. Greg obtained his bachelor of arts degree in journalism from the University of Nevada, Reno in 1985. In addition to his three decades of lobbying activity in Nevada and Washington, D.C., Mr. Ferraro is a political consultant who has managed and/or been an advisor on numerous political campaigns including the last three Nevada Governors. Mr. Ferraro and his wife Carolyn live in Reno, NV with their youngest of three children, who attends high school in Reno.
Russ works in the arena of government affairs focusing on zoning and land use planning and has represented various gaming clients, nonprofits, and public agencies. He obtained his law degree from the University of San Diego and has represented clients before the Nevada legislature since 2001. His extensive board experience includes the Urban Land Institute, AFAN, and the Las Vegas Global Economic Alliance. A 40-year resident of Nevada and a graduate of UNLV, Russ resides in Henderson with his two daughters.
Heidi Swank | Executive Director
Dr. Swank received her doctorate in anthropology with an emphasis on history and language from Northwestern University in 2006. She has published and presented widely on the ties between history, placemaking, and every day lives. Heidi has almost 15 years of successful grant writing experience, implementing field research and overseeing student research across the globe. As a resident of our older downtown Las Vegas neighborhoods, Dr. Swank has gained significant knowledge of mid-century resources and styles. She has spent almost 10 years researching this and other eras of 20th century architecture.
Contact Heidi at heidi.swank@nevadapreservation.org
Michelle Larime | Associate Director
Michelle has a background in architecture, special events, and various design industries. With a love for "old buildings," Michelle bought a 1954 ranch house in the Beverly Green neighborhood, where she quickly became involved in NPF's historic designation campaign. Her passion for preservation ultimately led to her current position with NPF. As the Associate Director, Michelle oversees NPF's yearly programming, including Home + History, heads up neighborhood outreach campaigns and assists with the daily workings of the NPF office. Michelle is also pursuing her Master's in urban and regional planning with a focus on historic preservation and urban sustainability.
Contact Michelle at michelle@nevadapreservation.org
Missy Reinheimer | Historian
Missy has been involved with archiving work since 1998, and has worked in a variety of settings ranging from University Archives to museums to private collections.  Her degrees in Anthropology and Art History have allowed her to conduct ethnographic fieldwork all over the great state of Nevada, and she acted as the Director of a small museum in Northern Nevada.  She is currently the Cultural Advisor for the Northern Nevada chapter of the Sons and Daughters of Erin, and is the Historian for the Southern Nevada chapter of the Sons and Daughters of Erin.  Her interests include world architecture, travel, writing, photography, birding, and rabbit husbandry.
Contact Missy at missy@nevadapreservation.org