Celebrating Nevada's Rural Roots
"It was the kind of building that remembered things, deep-down things, things that rode tears into the world, telling them back to anyone old enough or wise enough to know how to listen with their eyes." – Charles M. Blow, Fire Shut Up in My Bones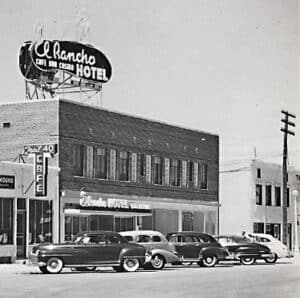 The El Rancho Hotel in Wells, Nevada is a building that evokes the memory of days gone by.  Stepping in through the original front doors takes you to a time when ranchers, miners, railroad workers, and gandy dancers came together to celebrate with the fruits of their labor.
Its grand opening celebration gala in 1950 was the event of the year.  Built by Italian immigrant Leo Quilici, the El Rancho routinely attracted people from Elko, Ely, Wendover, Carlin, Deeth, and several surrounding towns to cut the dust and have a good time.  The original hardwood bar and mirrored back bar are timeless staples of the era. They are reminders of the elegance Nevada saloon keepers provided for imbibers and are rare examples of period bar furnishings that still remain in the structure for which they were crafted.
Atop the El Rancho still remains its massive neon sign featuring a wrangler on an animated bucking horse. The bucking horse design originated with sketches worked up by Young Electric Sign Company of Salt Lake City, the very same creators of so many of the signs that illuminate the night in Las Vegas. To this day, you can almost see those smartly dressed mid-century Nevadans – enticed by this neon animation – turning off Front Street and heading toward the El Rancho.
Locals today remember the El Rancho with great fondness.  They tell stories of the characters of the Old West who livened up the nights there, even relating a time when Lawrence Welk came to play for Wells residents after they helped him through a stormy winter's night.  The El Rancho remains a living legacy of classic old style Nevada with many stories to tell.
On February 21, 2008, a 6.0 earthquake struck Wells, and the effects on the town were devastating.  Its entire historic Front Street district fell one after the other like dominos in a cascade of buildings. The wake of this disaster left El Rancho as one of the only original hotel buildings. Today, the El Rancho still stands proudly at its location on 6th Street and Lake Avenue, harkening passersby back to its glory days. In future years, this building will be the starting point for a reinvigorated and vibrant Wells. Nevada Preservation is honored to be part of this project.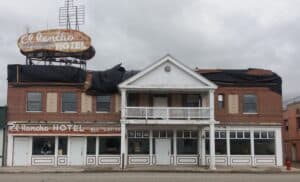 The El Rancho Hotel project marks Nevada Preservation Foundation's first venture out of Southern Nevada. Since March 2017, we have been researching and recording the history of this important building in rural Nevada. Soon, we will be submitting the El Rancho's nomination to the National Park Service for naming to the National Register of Historic Places.
But there is much more work that needs to be done in rural Nevada. As some of the oldest parts of our state, places like Eureka's Opera House, Battle Mountain's Grammar School, and the Goldfield Hotel are deserving of recognition. We need your help to continue to do this important work.
Invest in Nevada's history by investing in Nevada Preservation Foundation.
Did you know?
$50 can cover the creation of archival-quality digital photos required for National Register nominations
$100 can pay for historic areal survey photos of rural Nevada sites used for tracking site development
$250 can cover costs for one NPF staffer to travel to a rural town to conduct a historic preservation planning meeting