Miss Our Workshop? Get the Info Here!
We don't mean to brag, but our Can Preservation Pencil? workshop last month was quite a success! Four speakers from around the country shared their thoughts with us on the economics benefits of preservation, and strategies for rehabbing old buildings here in Las Vegas. They brought with them a wealth of knowledge and experience, and boy did we learn a lot!
If you weren't able to make it, we've got you covered. In case you missed it, you can download the presentations from our resources page.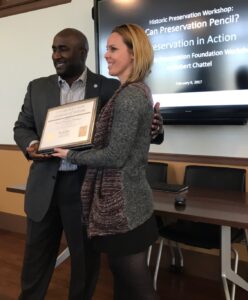 We also had quite the treat, when Councilman Barlow made a special appearance, and welcomed us to the neighborhood with an official plaque of occupancy at the Historic Westside School. We couldn't be more thankful for the warm welcome, and were very lucky to have Councilman's Barlow support throughout the process of moving us into the city-owned space.
Even more memorable was the chance to hear the Councilman's personal thoughts and experiences on the recent rehabilitation of the Historic Westside School. A beloved icon in the Westside community, the councilman made it his mission to see the school preserved for generations to come. One of the most memorable moments of the workshop, which was talked about at length in our final panel discussion of the day, stemmed from one of the main points of the Councilman's speech. He said, "I often asked people 'What are you going to do about the Westside School', and nothing ever happened. It wasn't until the question was turned around on me, 'What was I going to do,' that I realized this was my project to bear. Once I took responsibility, the ball started rolling." *
What an exciting idea! What can I do? Hosting this workshop is just one of the many ways we service the preservation community here in Southern Nevada, but we are always looking for new ways to engage and further preservation in our community. Let us know in the comments below what you'd like to see happen here, and what we can do can help!
*This is not a direct quote, but paraphrased by NPF staff who attended the event.