#UncommonVegas Photo Survey & Contest
Uncommon Las Vegas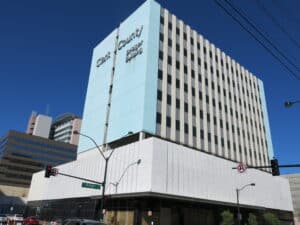 is multi-phase project that focuses on documenting and analyzing Las Vegas' modern and post-modern buildings and we need your help!
Our goal is to identify a large number of the underrated buildings which are often hiding in plain sight. We have an abundance of lesser-known modern and post-modern buildings that many people in our community love, even if they are not well-known here in the valley. That's why we need YOU! Uncommon Las Vegas is your chance to explore the buildings closest to you and discover some of the overlooked resources that are hiding in your community.
Phase I: Instagram It (#UncommonVegas)
Phase I of this exciting project is all about urban exploration and photo documentation. We're asking YOU to go out into the city and photograph the modern and post-modern buildings that catch your eye. Beginning in September and running through the end of October, we'll be collecting photos, addresses, and short descriptions via Instagram, Facebook and email, documenting the various resources that you come to identify.
Join us either August 26 or 28 for an informational meeting on how to identify modern and post-modern resources and where to focus your efforts. All the information you need to participate will be provided at these meetings. There are no special skills or equipment needed, just a love for old buildings and a camera that takes digital photos (phones are great!) More information on how you can participate in this exciting photo survey process is available on our website.
We'll be running an Instagram contest using the hashtag #UncommonVegas during a two-month period between September and October and announcing three winners before the end of the year. Prizes are in the works and categories included: the Maximum Effort Award, the Uncommon Champion Award, and the Adverse Encounter Award. While we will be accepting contributions via Facebook and email as well, the contest will be limited to Instagram submissions only. Official rules and instructions will be added to our website before September first.
*Update: We received  over 700 photos during the Instagram photo survey phase! You can view these Instagram photos here.
Phase II & III: Interpreting the results
The results will be a crowd-sourced photo survey of the entire Las Vegas Valley documenting many of the underrated and underappreciated modern and post-modern resources here in our city. Using this survey as a guide, we'll work to identify a handful of these buildings that are currently vacant and in need of some TLC. In February of 2018, we'll be hosting a vacant buildings workshop that uses these buildings as a case study for how to acquire and restore these undervalued resources. We'll also be working with a local photographer to take professional photos of the buildings found during the survey phase, which will be exhibited and published during these later phases. It's our goal to ultimately provide a published copy of the photo survey, creating an important guide for future preservation efforts in our community. More information on these later phases will be announced as details are confirmed.
But before we get too far ahead of ourselves, we need your help in completing most important phase, photographing Las Vegas! Mark your calendars for late August and join us in learning more and kicking off this exciting project!
*Update: Download the results of our Vacant Vegas workshop here.
We also have 25 of the 100 buildings that are being professionally photographed on display in our exhibit hall now! You can find details on how to access this exhibit here.
We are currently in the process of finishing up the final photography and will be uploading these results to our website soon. Check back often to see our progress!
Uncommon Vegas is generously sponsored by:
This project has been funded in part by a grant from the Modernism and Recent Past Fund of the National Trust for Historic Preservation.
Scroll To Top